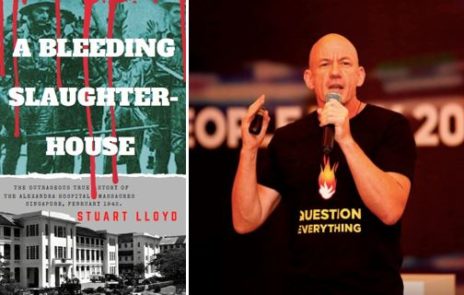 A Bleeding Slaughterhouse: the outrageous true story of the Alexandra Hospital Massacres Singapore, February 1942 uses graphic eyewitness accounts and interviews with Allied survivors and Japanese officers to piece together what really happened in the largest military hospital outside Britain on 14-15 February 1942 during the fall of Singapore.
Best-selling author Stuart Lloyd dissects the actions and reactions from both sides of the story, painstakingly and forensically understanding the causes and tracking down the perpetrators, with surprising results.
This story-driven account drips with human spirit as we get to know the key characters on both sides, and their fluctuating fortunes in the war and after. Join us to discover this story when author Stuart Lloyd – 'the perfect storyteller' according to The Telegraph UK – speaks at Orange City Library on Tuesday 15 February at 5.30pm. Please book your place online here or call the Library on 6393 8132.