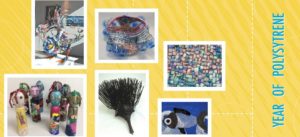 This exhibition and competition gives aspiring and professional artists the chance to explore and share their waste reduction messages while showcasing their artistic ability.  This year is the Year of Polystyrene.
The Waste to Art Community Art Competition and Exhibition is open to all community members, artists and schools who currently reside in the Orange City Council area. For further information please contact your local coordinator Tavia Lyons on 0477 134 615.
Please register your entry by Wednesday 2nd May. The local exhibition will be held at Orange City Library from Friday 16th May to Saturday 2nd June 2018.