Category Archives:
Books on the Menu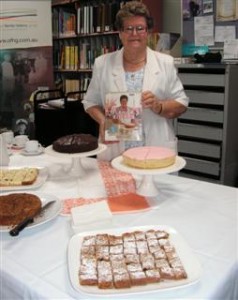 MasterChef favourite Merle Parrish launches her book
Today a whole of baking was going on to test Merle Parrish's recipes from her book. Merle was a MasterChef favourite on the show last year and has now produced her cookbook that is selling like well… hotcakes. There are recipes for scones, puddings, cakes and of course the famous (and her favourite) Peach Blossom Cake.
We tried out the Chocolate Ripple Cake, Date Slice, Chocolate Cake, Passionfruit Slice and Peach Blossom all meeting Merle's seal of approval at today's book launch held at Orange City Library and supported by the Hardback Cafe.
Merle spoke about her MasterChef experience, her recipes and her now busy schedule which includes an interview on the Today Show, an appearance on The Circle and a guest appearance at our own F.O.O.D. Week event Books on the Menu on 18 April at 5.30pm. Merle said she had been baking since she was 7 years old and is celebrating her 80th year. Members of the audience also asked for some baking tips. She loves baking and says everyone has failures but keep trying and have fun.
She is thrilled with her book and being able to share recipes passed down to her from her grandmother and mother. Her next challenge will be preparing entries for the Sydney Royal Easter Show. Good luck Merle!
Rhonda Doyle - F.O.O.D Week Legend
And the final guest speaker at our Books on the Menu event was a legend of Orange F.O.O.D. Week. Rhonda Doyle had everyone chuckling at her memories of growing up in North Queensland and feeling sophisticated drinking Blue Nun.
Rhonda has a passion for food and wine and organised the first Winters' Feast which led to F.O.O.D. Week as we know it today. Husband Stephen taught himself to make wine and they moved to Orange to start Bloodwood, one of the first vineyards in the district.
Rhonda told of growing in North Queensland with a food obsessed Dad. "The first recipe I recall is a cheesecake with condensed milk and lemon juice, then apple pies which were made from pineapples. And apple juice was added to lime juice make a cheap lemon tarts."
The first cookbook I bought was Margaret Fulton. I was also interested in Asian cooking and had many Chinese friends. I used Charmaine Solomon as a reference book. I was interested to see her cook once but I was surprised about what she cooked and then I thought what would I have done?. "I'm always thinking what spices can you leave out – I think you get into trouble by adding more all the time."
Rhonda also mentioned Peter Gilmour's latest book Quay which is beautifully presented and a work of art. She is currently reading Real Food by Mathews Evans (pictured) and "so far I'm only halfway through."
Now Rhonda is helping young families on low incomes learn cooking skills – easy things such as potato salad and "spag bol" as part of the Slow Food group.
She said someone once wrote that 20 years ago there were no such thing as local cuisine in Orange. We had a couple of jars of pickled walnuts, some jams, 3 wineries and the advice was just give it a go an see what happens. And here we are.
Thank you Rhonda, for a very informative and entertaining talk. Rhonda also received a spontaneous round of applause from the large audience after a guest called out "thank you for all you have done".
Books on the Menu with Justin Byrne
Our next guest speaker at Books on the menu was Justin Byrne. He has a way with words and is well known for writing wine columns and articles about our local wine and produce. Justin is the marketing manager for Charles Sturt University Winery. He said his home is filled with food and wine books and he subscribes to many magazines and (like most of us) keeps more than you should. A book that was instrumental in the early days was a gift – Jean Jacques seafood book. In the 80s this book took seafood to a new level. Seafood cooking was basic this brought in a lot of French techniques. It is very 80s. He pointed out the King George Whiting recipe in puff pastry, and also Mussels in a light tomato sauce, which is a recipe he still uses today.
At the time of publication, Jean-Jacques was the three-times award winner of the best seafood restaurant in Australia. His book explains not only how to prepare seafood in recipes made famous in his restaurant (located in North Melbourne, then St Kilda), but how to select, recognise freshness and buy them.
He said cookbooks reflect the changing fashions of restaurants as we mature – as a society we see it in the food. Justin also praised Japanese Kitchen by Kimiko Barber, bought in a Tokyo bookshop that spilled across 7 floors. Like a Stephanie Alexander book it gives you background on the ingredients, then the recipes. For example the different mushrooms are put into context, given a history, then directions on how might you use it.
There are also two types of Japanese stock and they can be used differently as a dipping sauce or a basis for stock – " I highly recommend it". There are 100 ingredients and 200 recipes. Discussion about seafood and where to purchase it in Orange followed and enthusiastic audience members called out various locations for meeting up with fish deliveries direct from Sydney markets. Great tips! Thank you Justin for stimulating appetites to try not only seafood, but Japanese cooking as well. Stay tuned, one more special guest to follow soon.
Max Schofield inspired by Mediterranean Flavours
Our second speaker at Books on the Menu held during F.O.O.D. Week was Max Schofield who spoke about his love for alfresco dining and really enjoying lots of tastes from different things rather than one large 3 course meal. This ethos is reflected in his business Fresh Fodder established in Orange in 2008. The company now produces a range of dips, salads, antipasto and he said taramosolata is the core of the business. It comes as no surprise that the Greek Cook Book published in 1967 is an influence. He names Greek, Italian and Mediterranean flavours as his favourites and refers to the book everyday to help research products. Interestingly this book has no pictures.
He also named Cooking on the Bone by Jennifer McLagan. "I love this book it has lots of pictures. It goes through the cuts of meat – I'm not an expert so this is great". Think flavoursome stocks, roast, stews and casseroles with some interesting additions, such as fried fish bones or pig's fit, thrown in for good measure.
He was an entertaining speaker for Books on the Menu revealing colourful anecdotes about growing up in the back streets of Crows Nest, Sydney above a deli and near some businesses of ill repute. His parents relocated to Rockley and then to Cowra opening Alfresco next to the Cowra Railway station. Now Max calls Orange home and has inspired us all to entertain using a selection of small dishes or meze. Thank you Max.
Books on the Menu Delights Audience
Our F.O.O.D. Week event books on the Menu enthralled more than 70 guests (pictured) with wine and produce, food stories, recipes, cookbooks and anecdotes from local foodies Monika Rickli, Max Schofield, Justin Byrne and Rhonda Doyle.
The buzzing crowd asked questions, enjoyed local wines and delicious local produce created by Library "Masterchefs" Jan Richards and Elizabeth Barry. There was also time to look over new cookbooks recently acquired by the library and a display celebrating 20 years of F.O.O.D. Week. Visitors from Byron Bay took home the lucky door prize generously supplied by sponsors Boomers Bookshop & ABC Centre.
First guest speaker Monika Rickli talked about her early life in German speaking Switzerland. That's where her parents owned and ran the local bakery. Contrary to what you would expect, growing up in a bakery meant she did not pick up any baking skills at all as her father ran the production on his own during the night and the two girls of the family were delegated to help Mum sell the goods in the shop during the day. In the tradition of Easter, Monika baked our guests a decorative plaited loaf to try and also experimented with rabbit and frog shapes which were cute. We'll pass on her recipe for the delicious bread in an upcoming blog. Her favourite recipe book is one she created herself with snippets from other chefs including Jamie Oliver, Karen Martini and friends from Switzerland with sections for savoury, baking, Thai and Asian. Monika said there was never any question of where to come to for her "tree change" – Orange ticked all the boxes. We're glad she did. And did you know she handcrafted the timber chopping boards using her woodworking skills. Clever lady!
Stay tuned for favourite books from our other guest speakers.