Craft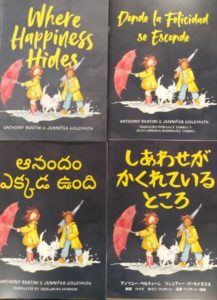 Harmony Day Storytimes
Harmony Day's message "Everyone Belongs" reinforces the importance of inclusiveness.  Join us to celebrate with three special guests at our Orange City Library 11am Storytimes reading Where Happiness Hides, by Anthony Bertini and local illustrator Jennifer Goldsmith, in English as well as Telugu, Japanese and Spanish. Telugu is a language spoken in southern India.
Tues March 16: Telugu
Wed March 17: Japanese
Thurs March 18: Spanish
Please book your place online or call the Library on 6393 8132.  There will be plenty of extra places available at these Harmony Day Storytimes enjoy stories, singing and take home craft.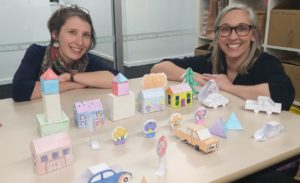 Free School Holiday Activity Packs
Get creating these school holidays with free take home Activity Packs from Orange City Library, Orange Regional Gallery and Orange Regional Museum. The Library pack features a Cardboard City Project where children can have fun constructing and decorating buildings, cars, trees and more from provided material.  Children are also invited to build some of the Central West's most iconic buildings for the Lego Club Holiday Challenge.  Activity Packs will be ready to collect from Monday 6 July. Book your Activity Pack via eventbrite.
**Please note we have had an overwhelming response to our School Holiday Activity Packs. If you missed out on a pack, please download your own printables here.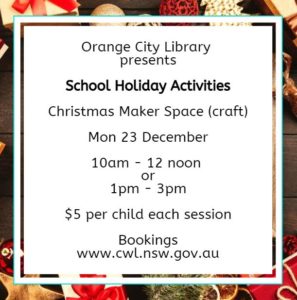 Christmas Maker Space (Craft)
Children: Looking to make a last minute Christmas gift for Aunt Mildred because you spent all your pocket money on chocolate frogs?
Parents: Need more time to prepare for Christmas? (or lie on the couch – we won't tell anyone).
We are hosting a festive Maker Space in Orange City Library for children on Monday 23 December. It is a fun way to start the school holidays and get into the Christmas spirit.
There are two sessions for ages 8 – 16.
Morning 10am – 12 noon
Afternoon 1pm – 3pm
Cost $5 per child per session.
Bookings online or call 6393 8132.