Category Archives:
Jane Austen Book Club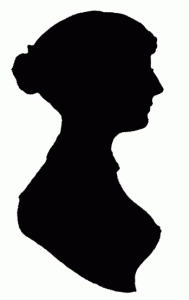 Jane Austen Book Club Meets Friday
The Jane Austen Book Club returns on Friday 11 May at Orange City Library to chat about Northanger Abbey from 12.30pm. This book was written in the late 1790s, but published only posthumously. It is the story of a deliberately ordinary heroine named Catherine Morland. The book is divided into two parts. In the first, Catherine travels with family friends, the Allens, to Bath. There she meets two brother-sister pairs — John and Isabella Thorpe, and Henry and Eleanor Tilney. Her own brother, James, joins them and becomes engaged to Isabella. Catherine is attracted to Henry, a clergyman with witty and unorthodox manners.
Cowra Library will host a discussion about Jane's most famous novel Pride and Prejudice (think Darcy and Elizabeth) from 11am – 12pm on Friday 11 May. Dear readers, I think Jane would be most pleased!
Happy 234th Birthday Jane!
English novelist Jane Austen was born on this day (16 December) in 1775, the seventh of eight children of a clergyman in a country village in Hampshire, England.
Jane concealed her writing from most of her acquaintances, slipping her writing paper under a blotter when someone entered the room. Though she avoided society, she was charming, intelligent, and funny, and had several admirers. She actually accepted the marriage proposal of a well-off friend of her family's, but the next day withdrew her acceptance, having decided she could only marry for love. Her novels include Pride and Prejudice (1813), Mansfield Park (1814), and Emma (1815). She died at age 42, of what may have been Addison's disease. She is one of a handful of authors to have found enduring popularity with both academic and popular readers.
Here are some amusing Austen quotes in honour of the anniversary of her birthday:
"It is a truth universally acknowledged, that a single man in possession of a good fortune, must be in want of a wife."
"You have delighted us long enough."
"A large income is the best recipe for happiness I ever heard of."
"A woman, especially, if she have the misfortune of knowing anything, should conceal it as well as she can."
"Give a girl an education and introduce her properly into the world, and ten to one but she has the means of settling well, without further expense to anybody."
Miss Austen Regrets on ABC Sunday Night
Austen fans rejoice – the wait is almost over. All self respecting Jane Austen fans will not miss this: Miss Austen Regrets screening on ABC TV. Here is the promo: "Approaching her fortieth birthday, Jane Austen (Olivia Williams pictured, from Emma and The Sixth Sense) appears happily unmarried. When asked by her young niece Fanny (Imogen Poots) to help her vet potential husbands, Jane's confident composure is threatened as she finds herself looking back on her own potential suitors and the choices she has made. Could potential family financial ruin have been averted if she'd accepted the proposal of a wealthy landowner? And what about the handsome young physician Jane meets as a result of a family illness?
Based on the life and letters of Jane Austen, Miss Austen Regrets tells the story of the novelist's final years, examining why, despite setting the standard for romantic fiction, she died having never married or met her own Mr. Darcy."
And look out for Greta Scacchi in the role of Jane's sister Cassandra. It has received great reviews and of course is beautifully filmed. Screening on ABC TV on Sunday 15 November from 8.30pm to 10pm. A must see!
Spooks returns
So what does Spooks have to do with the Library? Well would you believe Rupert Penry-Jones (pictured front)starred as Captain Wentworth in a TV version of Jane Austen's Persuasion. And he of course, is the star of Spooks. See I told you it was possible. And besides we love a great story and they generally have quality spy stories with a modern day twist and even Harry's Diary has been published. The award-winning, edge-of-your-seat spy drama, Spooks, is back with another white-knuckle ride through the perilous world of deadly terrorists, international cover-ups and treacherous double-agents. During 10 hour-long episodes, Adam, Ros, Harry and the team are immersed in their most intricate operation to date as the complex relationship between the UK, Iran and the US is put under the spotlight…but who can really be trusted under this new world order? There is also the Spooks Interactive online game at www.abc.net.au/tv/spooks Spooks begins Monday April 6 at 9.35pm, ABC1.
Lost in Austen coming to TV Sunday night
Just when you thought our love affair with Jane Austen was all over along comes this TV gem. On Sunday (8th March and 15th) at 8.30pm be watching ABC TV for Lost in Austen. Jemima Rooper (The Black Dahlia) plays a young woman who finds herself swept away to the land of Austen's Pride and Prejudice. It also features Alex Kingston (ER), Hugh Bonneville (Notting Hill), Lindsay Duncan (Rome) and new Bond girl Gemma Arterton (St. Trinians; Quantum Of Solace). It is the story of a thoroughly modern heroine who threatens to ruin one of the world's greatest literary love stories. Bored bank worker Amanda Price becomes lost in her favourite Jane Austen book after finding a portal in her bathroom and swaps places with its heroine Elizabeth Bennet. Of course she encounters the Bennet family and Mr Darcy. As the plot thickens she must restore the love story to its rightful conclusion. There are some wonderful locations and great characters. At least it sounds more tasteful than this new title: Pride and Prejudice and Zombies: The Classic Regency Romance – Now with Ultraviolent Zombie Mayhem! by Seth Graheme-Smith.