Orange Readers and Writers Festival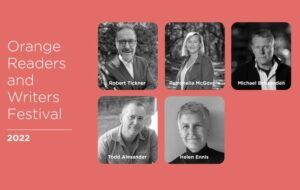 Snuggling up beside the fire with a good book is one of winter's pleasures. Be inspired by our incredible guest authors at this year's festival.
Enjoy a lively program of non-fiction and fiction authors with Robert Tickner, Helen Ennis, Petronella McGovern, Michael Brissenden and Todd Alexander at this intimate Readers and Writers Festival to be held at the Hotel Canobolas on Saturday 6th August coinciding with the Winter Fire Festival.  Tickets $75 before 8 July, $95 after and include morning tea and lunch. Please note the History Writing Workshop with Rebecca Wilson author of Kate Kelly: the true story of Ned Kelly's Little Sister is booked out.   
Be quick – book your place: Orange Readers and Writers Festival