Take Time Take Ten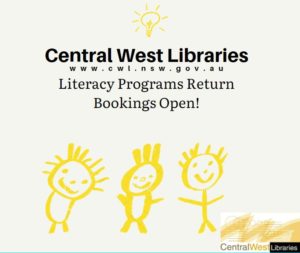 Library Programs are Back
With news that the lockdown for Blayney, Cabonne and Orange Local Government Areas will be lifted, most CWL programs will resume from tomorrow – Wednesday 28 July.
Bookings are now open for Storytime, 1,2 Books and Ten Minutes a Day at Orange City Library.
**Please note: Music For Little Ears at Orange City Library will resume on Wednesday 4th August and Friday 6th August. Bookings will open one week prior (soon).
Molong Storytime will be on Friday 6th August at 11.15am. We sing songs, play games, make craft and enjoy stories. Come along and join in the fun.
Storytimes at Canowindra, Cowra and Forbes Libraries continue as per usual.
We look forward to seeing you! WooHoo! We are back!
Take Time Take Ten (Read to your Child Ten Minutes a Day) Literacy Program Hands Out 5,000th Book
The Take Time Take Ten Literacy Program celebrates a milestone handing out its 5,000th book to a newborn since the program began in 2002. The nuts and bolts of literacy are established in childhood and that's why this program is so important. Presenting newborns with a book is the first stage of our ongoing programs for children, we also have our Baby Rhyme and Read program for toddlers, Storytime for pre-schoolers and library resources for school students. We would like to thank the Take Time Take Ten volunteers – Orange Base Hospital Blue Ladies, Orange Base Hospital Maternity Ward, Margaret Schwebel at Book City for purchasing the books and our sponsors. Orange Credit Union has allowed us to purchase books for the 900 or so children to be born in Orange this year. The lucky family receiving the 5,000th Take Time Take Ten book was Amanda and Mark Paterson, of Orange, and their newborn daughter Amelia Jane.
Pictured above is the Take Time Take Ten team: Margaret Schwebel of Book City, Blue Ladies President Cheryl Lobsey, Blue Ladies volunteer Mary O'Hare, Orange Credit Union Marketing Coordinator Noelle Cornish and Orange City Librarian Elizabeth Barry. Pictured below is Amanda and Amelia receiving the 5,000th book (and flowers) in the Take Time Take program from current sponsor Noelle Cornish from Orange Credit Union.