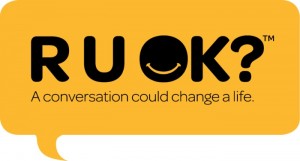 R U OK? Day is a national day of action held on the second Thursday of September annually, dedicated to reminding people to regularly check in with family and friends. You don't have to be an expert to support someone going through a tough time. You just need to be able to listen to their concerns without judgment and take the time to follow up with them.
Just by making people aware of R U OK? Day and having conversations around asking that question – "Are you ok?" –  you are taking a huge step to encouraging people to have a conversation and maybe will identify that they aren't ok or coping.
Anyone with concerns about their mental health or that of a friend or loved one should call the Mental Health Line on free call 1800 011 511 or contact their GP.