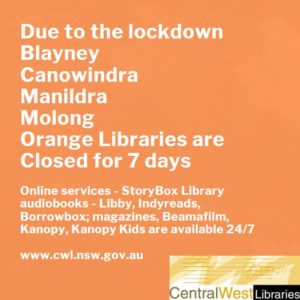 Please be advised due to the current lockdown in Blayney, Orange and Cabonne Local Government Areas, libraries in Blayney, Canowindra, Manildra, Molong and Orange will be closed for the next 7 days. Cowra and Forbes Libraries are open.
CWL online services – Story Box Library, audiobooks, magazines, Beamafilms, Kanopy, Kanopy Kids are available online 24/7 via the website: www.cwl.nsw.gov.au.
Library programs planned for the next 7 days will not be going ahead – this includes Orange and Canowindra Storytimes, Music For Little Ears, 1,2 Books, Ten Minutes a Day, Orange Purlers, Orange Family History Group, Code Club, and Lego Club.
If you have library items due, please call us on 6393 8132 to renew them for you. Any reservations will be available for collection after the lockdown ends.
 If you need assistance with online access, your PIN or have any questions, please call us on 6393 8132. 
Thank you for your patience and understanding at this time. We hope you take care, stay safe and well. See you all in 7 days.
#Blayney #Canowindra #Manildra #Molong  #Cabonne #Orange #orangensw #orange360 #regionallockdownnsw #COVID19