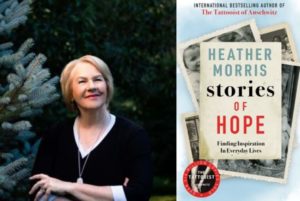 Join us for an online Zoom Webinar Tuesday 8th December at 6.30pm with author of The Tattooist of Auschwitz Heather Morris. Heather now shares her own story and explores the art of listening in her first non-fiction book Stories of Hope.
Active listening is a skill Heather has developed through a lifetime of experience; from childhood encounters with her great-grandfather in rural New Zealand through her career in a hospital where she dealt with many people going through tragedy and loss. As Heather lovingly recounts her many meetings with Lale it becomes clear that her skill as an active listener gave Lale Sokolov space and confidence to tell his story.
Reading this book is to walk with Heather as she listens to Lale over years as he told her is incredible story, publishes her novels, undertakes promotional tours and travels the world. Her courage and curiosity lead her on a remarkable journey where she meets an array of exceptional people.
Especially in this uncertain time, Stories of Hope provides inspiration and tools for anyone who is keen to deepen their connections to others by enhancing their listening skills.
Join us for this Zoom Webinar on Tuesday 8 December at 6.30pm. You will be able to ask Heather questions using the Chat feature. Please book your place to receive the ZOOM link.