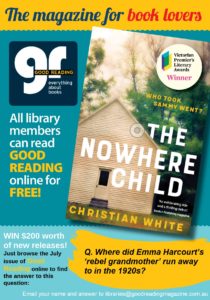 Did you know that Good Reading magazine is available online for all library members for free? It's packed full of reviews of all the latest books as well as interviews with authors, book trivia and fantastic competitions to win books!
This month, you can WIN a book pack of exciting new releases worth $200! To enter, simply browse through the July issue of Good Reading online to find the answer to this question: Where did Emma Harcourt's 'rebel grandmother' run away to in the 1920s?
Email your name, the name of your library, and your answer to [email protected] by July 31 for your chance to win!