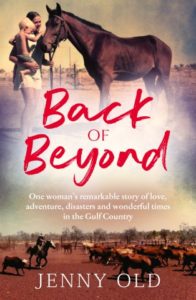 Meet author Jenny Old when she talks and shares photos from her book Back of Beyond at Orange and Forbes libraries.
"After falling in love with my husband Rick, I moved to a property called McAllister in the remote Gulf Country of far north Queensland, where I found myself living in a shed with a 44-gallon drum for my stove and a shower hose and a bucket in a tree for the bathroom!"
Surviving fires, floods, Cyclone Ted and the 1970s Beef Crash, this is one woman's remarkable story of love, adventure, disasters and wonderful times in the Gulf Country.
You can hear Jenny's story at Orange City Library on Thursday 12th July at 10.30am or  Forbes Library on Friday 3rd August at 2pm. Please book your place online through eventbrite or call your library.