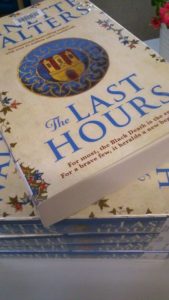 So another controversial book for Pageturners with some people disliking it and others loving it, with ratings ranging from 2.5 to 4.5 out of 5.
The book is The Last Hours is written by bestselling crime author Minette Walters and is a about a group of people battling to survive the black death in 1348 England.
Comments included "I enjoyed it, I got involved with it, it was a poor book, I liked the medieval setting and the opportunity to learn about life on an estate at that time, heavy on detail, she must have done a lot of research, some characters were clichéd – a horrible lord, noble savage, feisty woman & indulged daughter; ending a bit disappointing, the plague has awful symptoms, found it intriguing and wanted to get to the end, so different to what she had previously written, gave a sense of how isolated they were, enjoyed the setting, it was interesting, didn't like the beginning, I liked it, there were some crimes and a few twists, there was frisson, some sexual tension, some characters had modern viewpoints and the characters were well drawn."
A major point of discussion was the ending which is basically left open for the sequel and snippets of the sequel were included at the end of the novel. Everyone agreed this was an unusual way to finish the book. We are hoping the sequel will tie up all the loose ends.
The next meeting will be held on Wednesday 13th December at Orange City Library to talk about favourite reads during the year and suggested holiday reading.