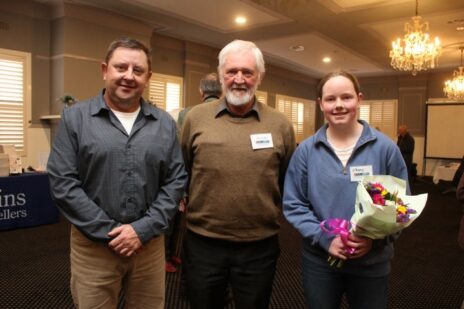 Winners of the 2022 Banjo Paterson Writing Awards were announced at the Orange Readers and Writers Festival on Saturday. Cr Glenn Floyd presented Contemporary Poetry winner David Judge, VIC, for I am who they have been – a moving poem about reflection, loss and remembrance, and Children's 2nd Place winner Ebony Inman, Mullion Creek, NSW, for her creative story Runaway. Other winners were:
Short Story – John Scholz, SA, for rural-based story with a twist Steeple
Children's First Prize – Nemi De Silva, QLD, for the spotlight on racism story Blood Ties
Children's 3rd Prize – Ava Reckerman, VIC, for the Stolen Generation and freedom poem Rosellas.
Congratulations to all our entrants and winners this year!!! The call for next year's entries will be announced on Banjo's birthday 17 February 2023. Past winning entries can be read on the Orange Wiki.