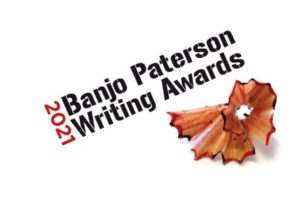 Three incredible writers haven made history by becoming the first joint winners in the Short Story Section of the 2021 Banjo Paterson Writing Awards and impressive writing featured in the ABC Radio Children's Awards. We are pleased to announce the winners:
Short Story: Joint winners: Co-authors Sagamba Muhira and James Page; and Carmel Lillis:
1st Co-authors Sagamba Muhira, Townsville QLD, and James Page, Redcliffe QLD – Out of Africa
And joint winner:
1st Carmel Lillis, Yarraville VIC –  Laughing like children
Contemporary Poetry
1st Prize, Mark O'Flynn, Katoomba  NSW – Interesting times we could all do without
ABC Radio Children's Awards
1st Lola Stafford, Billywilliga near Bathurst NSW – Story – One Land …Two People
2nd Sybilla Chapman, Bathurst NSW – Poem – Our Underwater Aussie Garden
3rd Luke Favantines, Mt Victoria NSW – Poem – Light and Dark
Congratulations to all who entered the awards and the 2021 winners!!!