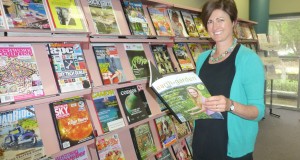 Hello, my name is Colette and I'm on work placement at Orange City Library as part of the course requirements for the Masters of Information I'm undertaking through Charles Sturt University.
Highlights of the placement so far have been attending the monthly Pageturners Book Club meeting and helping select material for the Home Library Service. I have also even enjoyed shelving items because while doing this I keep discovering new areas of the collection I didn't know about! Did you know the library has a subscription to a large selection of popular Australian and international magazines and e-magazines? Or that you can come in and play boardgames like 7 Wonders or Talisman? You just need your Central West Libraries membership card to access the e-magazines from Zinio or to borrow the boardgames within the Library.
I would like to thank all of the Library staff who have been so helpful and for giving me such a good placement experience.