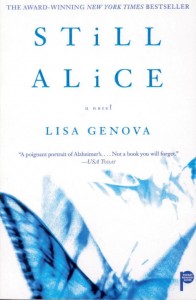 The most popular book at Blayney last month was Still Alice by Lisa Genova. Still Alice is as compelling as A Beautiful Mind and as powerful as Ordinary People. You will gain an understanding of those affected by early-onset Alzheimer's and remain moved and inspired long after you have put it down.
While Alice once placed her worth and identity in her celebrated and respected academic life, now she must re-evaluate her relationship with her husband, her expectations of her children and her ideas about herself and her place in the world.
Losing her yesterdays, her short-term memory hanging on by a couple of frayed threads, she is living in the moment, living for each day. But she is still Alice. This is a great book club read.