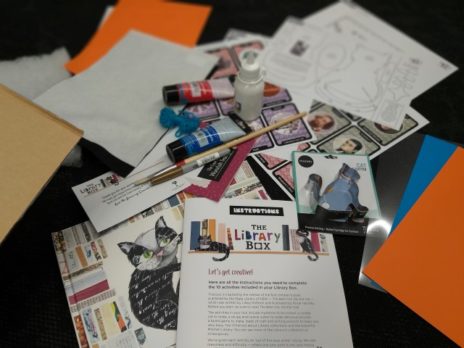 Get a box full of free activities with all the resources you need included delivered to your door for free! The State Library of New South Wales Creative Kids Box is filled with activities inspired by the Library's collections to delight and inspire all curious and creative primary school aged children. They will provide detailed activity instructions and a box full of creative supplies delivered straight to your door – and with your NSW Government Creative Kids Voucher it is completely free!
Inspired by the Library's new picture book The Best Cat, the Est Cat, the Library Box brings the big Library to you! All 10 screen-free activities in this box highlight the Library and its fascinating collections in interesting and accessible ways.
From the moment this box arrives on your doorstep, the activities inside will have you painting, playing, reading, building, baking, constructing, crafting and writing. Best of all, this box contains plenty of ideas, instructions and resources to repeat and extend the activities for MONTHS to come.
Everything you need to know is on the State Library's website including how to apply for the NSW $100 Creative Kids Voucher (have your child's Medicare details ready). Enjoy!