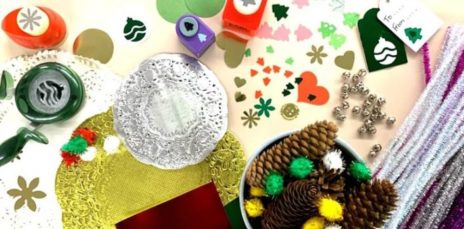 Get ready for some fun festive craft!!!
At Orange City Library join in Christmas Craft on Monday 20 December from 9am to 12.30pm. We are hosting a festive craft-making-session for children to create decorations, gift tags, wrapping paper and more.
Also learn about the Summer Reading Club and all the great Summer Holiday activities we have in store for you at Orange City Library. This activity is designed for children aged 6 and over. Please book your place on line via Eventbrite.com.au or call us on 6393 8132.
At Cowra Library the Christmas spirit continues with the December Christmas Roundtable on Monday 20 December and Wednesday 22 December at 10.30am. Enjoy making paper strip Christmas trees, paper chain reindeer and snowmen and hand-traced Santas! These sessions are for children aged from 3 years and up. And join in Lego Squad on Friday 24 December Christmas Eve at 10.30am to build with us! Please book online via Eventbrite.com.au or call Cowra Library on 6340 2180 to book your place. See you soon! Merry Craftmas!