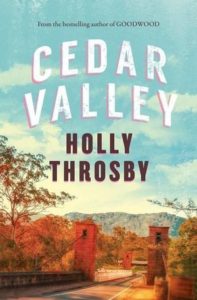 From the author of the bestselling novel, Goodwood, comes a compelling mystery set deep within the hearts of Cedar Valley and its inhabitants. On the first day of summer in 1993, two strangers arrive in the town of Cedar Valley.
One is a calm looking man in a brown suit. He makes his way down the main street and walks directly to Cedar Valley Curios & Old Wares, sitting down on the footpath, where he leans silently against the big glass window for hours.
The other is 21-year-old Benny Miller. Fresh out of university, Benny has come to Cedar Valley in search of information about her mother, Vivian, who has recently died. Vivian's mysterious old friend, Odette Fisher, has offered Benny her modest pale green cottage for as long as she wants it.
Is there any connection between the man on the pavement and Benny's quest to learn more about her mother? Holly Throsby is the perfect guide as Cedar Valley and its inhabitants slowly reveal their secrets.
We are delighted to host author Holly Throsby at Orange City Library on Wednesday 24th October at 5.30pm to launch Cedar Valley. Please book your place online through eventbrite or call the Library on 6393 8132. The event is supported by Collins Booksellers.