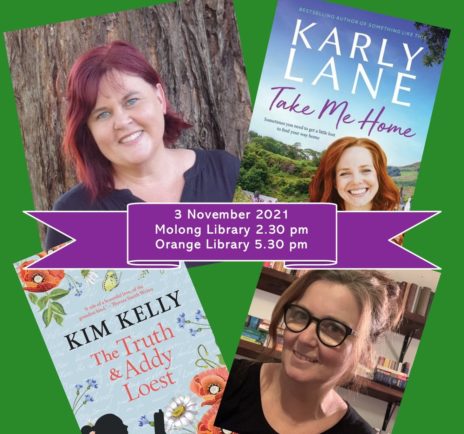 Meet two bestselling authors at Molong and Orange Libraries. Discover the The Art of Happy Endings when bestselling Australian author Karly Lane joins well-known Central West author Kim Kelly for a conversation about the sweet and serious business of writing heart-warming tales during hard times. Join them for this chat at:
* Molong Library on Wednesday 3rd November at 2.30pm, or
* Orange City Library at 5.30pm.
Please book your place via eventbrite or call Molong on 6366 8404 or Orange City Library on 6393 8132 to register your spot. Please note that the NSW Public Health Orders will apply. See you there!
#kimkelly #karlylane #authors #authortalk #fiction#bestsellers #orangecitylibrary #orange #orange360 #molong #molonglibrary #cabonnecouncil #realifeevent #nswpubliclibraries