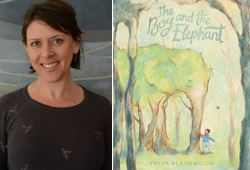 Join us for this special event on Sunday 14 November at 3pm to launch The Boy and the Elephant – the powerful new picture book from Greenaway Medallist and seven-time CBCA winner, local illustrator Freya Blackwood.
The boy lives in a city, where everything is fast and loud. But amidst the bustle and the noise, the boy has a secret …In the overgrown lot next to his apartment building, deep within the green, he has a friend. But one day progress arrives, bringing with it plans for something new, and the boy must find a way to save his friend before it's too late …
It is a magical and tender wordless picture book about the world we live in and our ability to change it.
This is event is proudly supported by Collins Booksellers. Please note current COVID-19 Public Health Orders will apply. Please book your place online or call Orange City Library on 6393 8132. See you there!