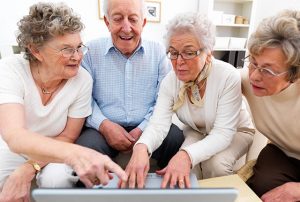 Older people in the Cowra Community have the opportunity to become connected and participate in the digital world thanks to Tech Savvy Seniors Training available at Cowra Library.
Cowra Librarian Caroline Eisenhaeur said the face to face teaching sessions are a wonderful way to learn new online skills. Join one of the small, friendly training group sessions at your local library where you can learn new skills to help you get connected and take the first step to becoming tech savvy. The courses run until the end of the year and include introductions to iPad, email, social media, smartphones, shopping, banking and sharing photos.
To book your place for a course that interests you, please contact Cowra Library on 6340 2180.