Category Archives:
Awards
And the 2013 Man Booker Prize Winner is....
And the winner is Eleanor Catton with The Luminaries. The youngest Man Booker winner in the prize's history (she is 28 but completed The Luminaries aged 27) has triumphed with the longest ever Man Booker winning novel (832 pages). Catton is just the second New Zealander to win the prize, the first being Keri Hulme with The Bone People in 1985. A more important statistic is that earlier in the year there were an extraordinary 151 novelists submitted for the prize and from this reach field of literary wheat hers is the one head that remains standing, waving in the warm breeze of the judges' favour. Life for Eleanor Catton will never be the same again. For more details go to www.themanbookerprize.com
About the book: It is 1866, and Walter Moody has come to make his fortune upon the New Zealand goldfields. On the night of his arrival, he stumbles across a tense gathering of
twelve local men, who have met in secret to discuss a series of unsolved crimes.
A wealthy man has vanished, a whore has tried to end her life, and an enormous
fortune has been discovered in the home of a luckless drunk. Moody is soon drawn
into the mystery: a network of fates and fortunes that is as complex and
exquisitely patterned as the night sky….
Local Illustrator Freya Blackwood wins Early Childhood Book of the Year
Congratulations to local illustrator Freya Blackwood and author Emma Allen for winning  Book of the Year: Early Childhood in the Children's Book Council of Australia Awards for The Terrible Suitcase.
Children's Book Council of Australia (CBCA) president Angela Briant says the awards show local authors and illustrators are producing enduring works that will be cemented in our cultural history.
"There is increasing community awareness of how crucial it is that all young Australians achieve at the very least competent levels of literacy," Ms Briant said in a statement on Friday.
"The best way to achieve that is to provide children and young people with engaging and high quality books – even better if they are Australian books."
Check out our display of all the winning and nominated books at Orange City Library and for more details about the winnerss go to www.cbca.org.au
Questions of Travel by Michelle de Kretser Wins Prime Minister's Literary Awards
This year's winners for the Prime Minister's Literary Awards, Australia's richest literary awards, have just been announced. They are:
The much-awarded Questions of Travel by Michelle de Kretser for fiction;  The Australian Moment by George Megalogenis for non-fiction; Jam Tree Gully by John Kinsella for poetry; Fog a Dox  by Bruce Pascoe for young adult fiction;  Red by Libby Gleeson for children's fiction;  Farewell, dear people by Ross McMullin for Australian history.
The winners were chosen from a shortlist of 29 books and will share in a prize pool of $625,000. The Prime Minister's Literary Awards recognise authors who have proven literary excellence, highlighted in their recently published work. Each winner receives $80,000 and shortlisted authors each receive $5,000.
Questions of Travel also won The 2013 Miles Franklin Award and was shortlisted for both this year's Stella Prize and The Kibble Literary Award for Women Writers. Congrats to all the winners and nominated writers.

2013 Voiceless Anthology Readers' Choice
It's time to cast your vote for The 2013 Voiceless Anthology. Ten contributors are vying for the title of Readers' Choice and the decision is in your hands.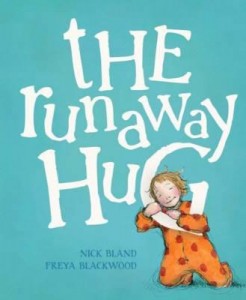 Congratulations Freya - Book of the Year Award
We love Freya Blackwood's illustrations and so do the judges of this year's Children's Book Awards with The Runaway Hug by Nick Bland and Freya Blackwood taking out Book of the Year: Early Childhood section of the Children's Book Council of Australia 2012 Book of the Year Awards announced in time for Childrens Book Week celebrations. What a fantastic effort! To see all the winners head to the website www.cbca.org.au or check out the display at Orange City Library. WooHoo! Congratulations Freya!