Category Archives:
@ your library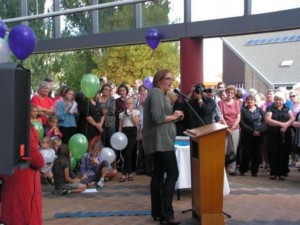 Kate Bracks Launches The sweet life
Everyone had a taste of the sweet life when the 2011 MasterChef Winner Kate Bracks, of Orange, launched her cookbook at Orange City Library on Friday afternoon.
Family, friends and the Orange community came out in droves to help officially launch her book, sip champagne, sample dessert treats from her recipes, be welcomed by Orange City Councillor Fiona Rossiter, hear from Kate's daughter Erin and from Kate herself and see her cut a magnificent cake (Bung in Chocolate Cake Recipe on p195) for the National launch of her cookbook The sweet life. 
Kate was genuinely stunned by the show of support and thanked many people for their efforts during her MasterChef crown challenge.  Nine-year-old Erin almost upstaged her mum when she said how surprised she was to learn her mother was going to be on TV instead of having a weekend away.
The team from Boomers Bookshop and ABC Centre were kept busy showing and selling the hardcover dessert books .  Thank you to everyone who came along.  Kate now begins her national tour. Good luck Kate! Check out more photos from the event here: http://on.fb.me/KatesBookLaunch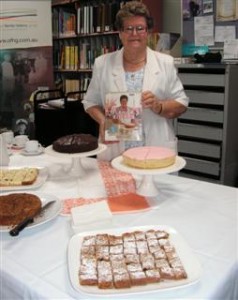 MasterChef favourite Merle Parrish launches her book
Today a whole of baking was going on to test Merle Parrish's recipes from her book. Merle was a MasterChef favourite on the show last year and has now produced her cookbook that is selling like well… hotcakes. There are recipes for scones, puddings, cakes and of course the famous (and her favourite) Peach Blossom Cake.
We tried out the Chocolate Ripple Cake, Date Slice, Chocolate Cake, Passionfruit Slice and Peach Blossom all meeting Merle's seal of approval at today's book launch held at Orange City Library and supported by the Hardback Cafe.
Merle spoke about her MasterChef experience, her recipes and her now busy schedule which includes an interview on the Today Show, an appearance on The Circle and a guest appearance at our own F.O.O.D. Week event Books on the Menu on 18 April at 5.30pm. Merle said she had been baking since she was 7 years old and is celebrating her 80th year. Members of the audience also asked for some baking tips. She loves baking and says everyone has failures but keep trying and have fun.
She is thrilled with her book and being able to share recipes passed down to her from her grandmother and mother. Her next challenge will be preparing entries for the Sydney Royal Easter Show. Good luck Merle!
Library Lovers Day
A recent online survey conducted by Swedish furniture giant IKEA reported that one in three Aussies, if given extra time in the day, would prefer to get stuck into a novel than spend one on one time with their partners. Amazing! But true! There will be heart warming stories in libraries across Australia on Valentine's Day as lovers of libraries claim 14 February as Library Lovers Day. And did you know that 95 per cent of Aussies consider libraries to be important in their lives. So call in and love your library.
Adult Learners Information Morning and Sausage Sizzle
Please join us at Orange City Library
Monday 28 September 2009, from 10.10am for fantastic morning of new things to learn followed by a sausage sizzle to celebrate Adult Learners Week.
First there will be an official welcome & hear about the experience of adult learners … then
Join in with Information sessions including:
10.30 11.30am – Making a will and power of attorney and from 11.45am
" Making your own worm farm
" Learning opportunities for adults
" How to use a digital camera
" Using online government and banking
" Restoring and preserving photographs
" Have you thought about becoming a writer?
" Making a porcelain doll. These are drop in sessions and run all morning.
Stay and enjoy some lunch, tea & coffee. It all finishes around 1pm. The event is free but bookings are essential by telephoning 6393 8132. See you there.
Wrap with Love KNIT IN at Cowra
Yes it's the Wrap with Love ABC KNIT IN Cowra Library on Wednesday 29th July 2009. Morning and afternoon tea will be provided by the Friends of the Cowra Library. The KNIT IN is a fantastic community event supporting the organisation Wrap With Love, which creates colourful warm wraps for communities in need around the world. We need you to knit squares (25cm x 25cm or 10 by 10 inch) 8 pusing 8-ply yarn and size 8 (4mm) needles (approximately 50-55 stitches). If you have spare 8 ply yarn, are handy with a pair of knitting needles, a crochet hook or you have always wanted to learn how to knit, please join in our efforts to create a record amount of squares and wraps in 2009. Check out the Wrap With Love website http://www.artsandcraftsnsw.com.au/Wrap.htm.
For more information please contact Marion or Carol at Cowra Library on 6340 2180. You can also drop off your knitted squares and wraps to any Central West Libraries branch.