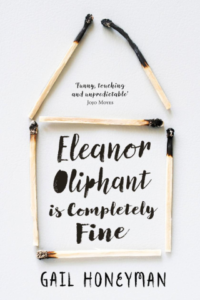 Eleanor Oliphant is Completely Fine by Gail Honeyman gave everyone so much to talk about at Pageturners – even those who didn't warm to the story of a lonely eccentric woman whose life changes when she helps a stranger.
Eleanor Oliphant leads a simple life. She wears the same clothes to work every day, eats the same meal deal for lunch every day and buys the same two bottles of vodka to drink every weekend. Eleanor Oliphant is happy. Nothing is missing from her carefully timetabled life. Except, sometimes, everything. One simple act of kindness is about to shatter the walls Eleanor has built around herself. Now she must learn how to navigate the world that everyone else seems to take for granted – while searching for the courage to face the dark corners she's avoided all her life.
Here are the scores from Pageturners with a score of five for loving it (note a 6) and 0 for disliking it (note a 0.5): 4, 4, 4, 4, 6, 4, 0.5, 4, 5, 5.
And here is more on Eleanor from the author Gail Honeyman:
https://www.theguardian.com/books/2018/jan/12/gail-honeyman-didnt-want-eleanor-oliphant-portrayed-as-victim
The next book for Pageturners discussion on Wednesday 11th April at 5.30pm is The Cage by Lloyd Jones.