Category Archives:
Blayney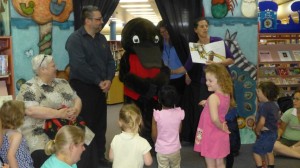 Welcome Freeda the Reader
Children at Storytime this week enjoyed meeting special guest – Freeda the Reader. They lined up to pat her flippers and stroke her soft fur. Storyteller Fiona introduced the giant platypus Freeda and talked to the children (carers and parents) about all the qualities that make her unique. Children were also able to guess her favourite hobbies correctly – can you? Yes –  swimming and reading! Her wish is for all children to discover the joys of reading.
Freeda the Reader will  be helping out with our Summer Reading Club activities during December and January – so when you see her, make sure you say hello.
More Time to Watch Your DVDs
A round of applause for our Library patrons who suggested this idea. Woo Hoo!  We have extended the borrowing time for DVDs from one week to two. So you have more time to enjoy the things you want to watch.
Call into any of our branches and have a look at our selection of DVDs which includes something for everyone. Whether you are interested in Westerns, Thrillers, Action, Romance, History, Documentaries or Children's shows, you will find something to watch from the library – for two weeks! Enjoy!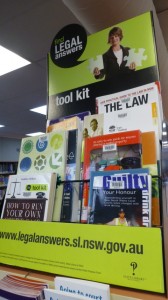 Find Legal Answers at Your Local Library
Find answers to your law questions at your local library:
Example Questions:
1.            I'm going to court in a few weeks – I've been charged with stealing a car.  Someone said I should get a character reference. How do I do that?
2.            Are children allowed to visit a prison?
3.            My husband and I are separating and trying to sort out who is going to look after our daughter. I've heard that the court decides based on best interests of the child. I think she would be better off with me. How does the court decide what is in the child's best interest?
4.            My neighbour and I have agreed that we need a new fence, but she wants a really expensive one and I'm happy with something more basic. Do I have to pay half of the most expensive one?
5.            I'm the executor of my father's will.  What exactly does and executor do?
Find the answers to your legal questions with summaries, practical guides, brochures, hot topics, and printed fact sheets written in simple, plain language on hand at local libraries.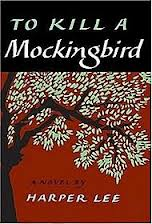 Classics Book Club Loved To Kill A Mockingbird
Classics Book Club Never judge a book by its movie! These groups meet to talk about classic novels that have made it onto the big screen.  Watch the movie or read the book, or both.  It's up to you but either way the books/films will generate lively discussions.
Most recently the Orange Evening Classics talked about Harper Lee's classic American novel To Kill A Mockingbird and the movie starring Gregory Peck. It is one of the first times a group of people have all agreed on a book – "Loved it", "it is perfection", "it is beautifully written", they said. Come along to any of these discussions that may interest you:
Classics meets February to November at: Blayney Classics Book Club meets on 3rd Tues of the month at 11am.
20 August – Breakfast at Tiffany's by Truman Capote
17 September – Lolita by Vladimir Nabokov
15 October – Atonement by Ian McEwan
19 November  – To Kill A Mockingbird by Harper Lee
Orange Daytime Classics Book Club meets on the third Thursday of the month at 12.30pm – 1.30pm:
15 August – Schindler's Ark by Thomas Keneally
19 September- Picnic at Hanging Rock by Joan Lindsay
17 October – Catch 22 by by Joseph Heller
21 November – Breakfast at Tiffany's by Truman Capote
Orange Evening Classics Book Club meets on the third Thursday of the month at 5.30pm – 7pm.
15 August – The Great Gatsby by F.Scott Fitzgerald
19 September- The Grapes of Wrath by John Steinbeck
17 October – Lolita by Vladimir Nabokov
21 November – Catch 22 by Joseph Heller
Book Club Collection Do you belong to a book club?  Are you looking for your next read?  CWL has sets of multiple copies of the same book ready for you to borrow.  There are also author and discussion notes to go with them.
Happy Birthday Banjo Paterson: Writing Awards
It's Banjo's birthday (Sunday 17th February) and to celebrate we are announcing the call for entries in the Banjo Paterson Writing Awards.  Poet, solicitor, journalist, war correspondent and ballad writer Andrew Barton "Banjo" Paterson (1864 – 1941) was born near Orange and each year the Central West Writers' Centre, in conjunction with Central West Libraries, The Central Western Daily and ABC Central West Radio announce the call for entries in the Banjo Paterson Writing Awards. 
There are four categories:  
         Short Story
         Open Poetry 
         Bush Poetry and
         ABC Central West Radio Children's Writing Awards for writing by children aged 16 years and under 
2013 Banjo Paterson Writing Awards Entry Form