Category Archives:
Children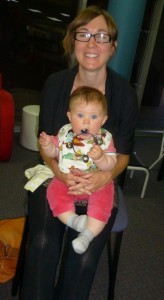 Baby Rhyme and Read Photo Time
After a fun time singing, listening to nursery rhymes and doing all the actions the Baby Rhyme and Read Class of 2013 took time out for photos: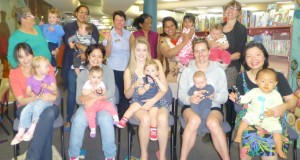 Baby Rhyme and Read Class Graduate
Congratulations to all our Baby Rhyme and Read participants who graduated today!!! WooHoo!! For the past six weeks many of the group have been coming along to sing songs, nursery rhymes and learn all the actions to help prepare their young ones for talking and learning to read.  The 20 minute classes are relaxed, enjoyable and social. Interested parents and carers and invited to bring their children aged from 0 – 2 years to join in.  Classes return next year during the school term. If you would like to come along, there is plenty of places available. Please call the Library on 6393 8132 to register your interest for next term.  Stay tuned for more photos of our graduating students…………
Baby Rhyme and Read Starts Mon 14 Oct
"Humpty Dumpty sat on a wall, Humpty Dumpty had a great fall……" What comes next? If you would like to learn words and actions to popular nursery rhymes to teach your little ones, then come along to Baby Rhyme and Read. Babies aged from 0 to 12 months enjoy rhymes, singing and sounds to help them develop and learn. Baby Rhyme and Read sessions  are free and will be held from Monday 14th October at 10.15am for six weeks at Orange City Library in Byng Street. Each session goes for just 30 mins. Places are limited so please call the Library on 6393 8132 to book your place.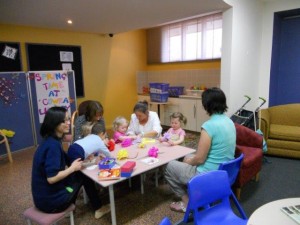 Springtime at Cowra Library
Cowra Library has sprung into Spring with its' monthly storytime. Fiona crafted a tree resplendent in cherry blossoms (gorgeous). For the next few months Storytimers  and visitors to the Library can help our tree grow flowers, leaves and possibly more branches! Check out books reflecting themes of spring, colour, Japanese culture and Summer. Our ongoing displays are stacked full of gardening books, magazines and dvds.
The next Storytime on Thursday 3rd October is a special school holiday one –  lookout for  spiders and creepie crawlies to make and place under or around the tree (thank you Maryanne). Its' open to all ages and she has a selection of topical books.
And a reminder the Sakura Matsuri Cherry Blossom Festival is on at the Japanese Gardens on the 28th September 2013.   The Festival  has many exciting cultural experiences to demonstrate the traditional Japanese way of life. Sakura Matsuri is a much loved event in the Cowra cultural calendar. It is a time when the natural beauty of spring and the simple elegance of centuries-old traditional Japanese culture combine in the unique Australian setting of the Cowra Japanese Garden – and you are invited to enjoy the result.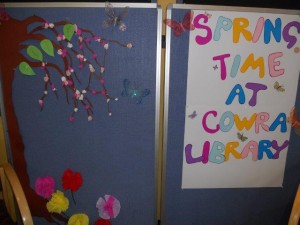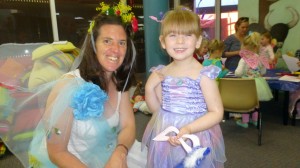 Fairies and Caped Crusaders Fly Into Storytime
Flower Fairy Fiona with Fairy Ruby age 3, at Storytime;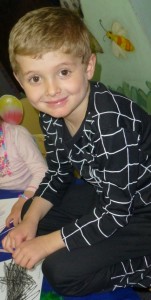 Spiderman Hugh 5, prepares his mask:
Fairy Isla , age two and half, shows off her fairy wand at Storytime;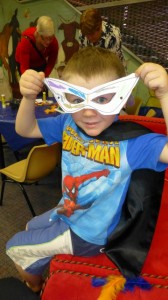 Superhero Bailey 4, demonstrates his mask created at Storytime;
Fairies outnumbered the Superheroes today at our dress up Storytime with children, parents and carers enjoying three "superhero" related books featuring Super Kittys, a Superhero Dog and a unique little homegrown Superhero all with their helping qualities and special powers.
And around the shelves were a few "Batmen" helping to put away books.  Who will we see in the Library for Thursday's Storytime sessions at 11am and 2pm?