Category Archives:
Forbes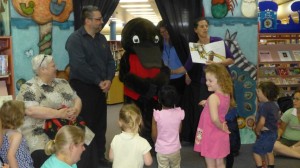 Welcome Freeda the Reader
Children at Storytime this week enjoyed meeting special guest – Freeda the Reader. They lined up to pat her flippers and stroke her soft fur. Storyteller Fiona introduced the giant platypus Freeda and talked to the children (carers and parents) about all the qualities that make her unique. Children were also able to guess her favourite hobbies correctly – can you? Yes –  swimming and reading! Her wish is for all children to discover the joys of reading.
Freeda the Reader will  be helping out with our Summer Reading Club activities during December and January – so when you see her, make sure you say hello.
River Words Poetry Competition Winners
Congratulations to all those wordsmiths who entered the inaugural River Words Poetry Competition as part of the Kalari River Arts Festival held on the weekend. The winning entries are now on display at Forbes Library. The winners are:
Category Primary School Winners – the prize of  $100 each:
Forbes Kindergarten student Fyn Harrison (pictured above) – The Big Carp and Orange Year 6 student Jeremy Elliott – Little Sally in the Valley
Category Secondary School – Winner – the prize of $100:
Bathurst Year 7 student Georgia Butt – Harvest Time
Highly Commended: Bathurst Year 7 student Felix McClymont – The Crystal River and Bathurst Year 8 student Matthew Vance – River Loss
Category Adult – the prize of $100:
Keith Rawsthorne, of Forbes – Kalari- My River (pictured below)
Highly Commended to Lee Reynolds, of Forbes – The Lachlan River (pictured below).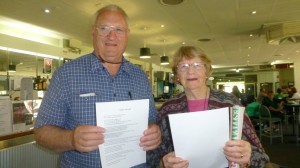 More Time to Watch Your DVDs
A round of applause for our Library patrons who suggested this idea. Woo Hoo!  We have extended the borrowing time for DVDs from one week to two. So you have more time to enjoy the things you want to watch.
Call into any of our branches and have a look at our selection of DVDs which includes something for everyone. Whether you are interested in Westerns, Thrillers, Action, Romance, History, Documentaries or Children's shows, you will find something to watch from the library – for two weeks! Enjoy!
River Words: Kalari River Arts Festival Poetry Comp
Get writing. There is still time to get your entries in. Let the river inspire your poetry in this competition. Poems will go on display at Forbes Library and winning entries will be read at the Kalari-Lachlan River Arts Festival. The Festival is a celebration of country, creativity and resilience on the Kalari-Lachlan River, Forbes.
There are three sections Primary, and Secondary students, and Adults with a $100 prize offered to winners in each category.
Each poem must include the word "river", include a title, be presented on one side of an A4-sized sheet of paper. Poetry is limited to a maximum of 30 lines.
Judging will take place by a Central West Libraries judging panel including the Central West Writers' Centre Coordinator.
Entry is free but please attach an entry form to your poem. Entry forms are available from Forbes Library or download from Central West Libraries website www.cwl.nsw.gov.au homepage. Entries must be sent to River Words, Central West Libraries PO Box 35 ORANGE NSW 2800. The competition closes on the last mail, Monday 21st October 2013.For more details about festival events go to www.riverartsfestival.org.au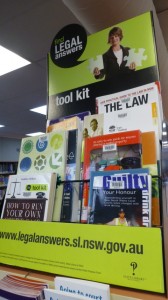 Find Legal Answers at Your Local Library
Find answers to your law questions at your local library:
Example Questions:
1.            I'm going to court in a few weeks – I've been charged with stealing a car.  Someone said I should get a character reference. How do I do that?
2.            Are children allowed to visit a prison?
3.            My husband and I are separating and trying to sort out who is going to look after our daughter. I've heard that the court decides based on best interests of the child. I think she would be better off with me. How does the court decide what is in the child's best interest?
4.            My neighbour and I have agreed that we need a new fence, but she wants a really expensive one and I'm happy with something more basic. Do I have to pay half of the most expensive one?
5.            I'm the executor of my father's will.  What exactly does and executor do?
Find the answers to your legal questions with summaries, practical guides, brochures, hot topics, and printed fact sheets written in simple, plain language on hand at local libraries.