Category Archives:
Storytime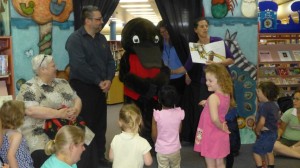 Welcome Freeda the Reader
Children at Storytime this week enjoyed meeting special guest – Freeda the Reader. They lined up to pat her flippers and stroke her soft fur. Storyteller Fiona introduced the giant platypus Freeda and talked to the children (carers and parents) about all the qualities that make her unique. Children were also able to guess her favourite hobbies correctly – can you? Yes –  swimming and reading! Her wish is for all children to discover the joys of reading.
Freeda the Reader will  be helping out with our Summer Reading Club activities during December and January – so when you see her, make sure you say hello.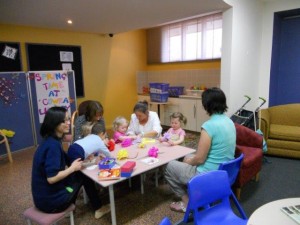 Springtime at Cowra Library
Cowra Library has sprung into Spring with its' monthly storytime. Fiona crafted a tree resplendent in cherry blossoms (gorgeous). For the next few months Storytimers  and visitors to the Library can help our tree grow flowers, leaves and possibly more branches! Check out books reflecting themes of spring, colour, Japanese culture and Summer. Our ongoing displays are stacked full of gardening books, magazines and dvds.
The next Storytime on Thursday 3rd October is a special school holiday one –  lookout for  spiders and creepie crawlies to make and place under or around the tree (thank you Maryanne). Its' open to all ages and she has a selection of topical books.
And a reminder the Sakura Matsuri Cherry Blossom Festival is on at the Japanese Gardens on the 28th September 2013.   The Festival  has many exciting cultural experiences to demonstrate the traditional Japanese way of life. Sakura Matsuri is a much loved event in the Cowra cultural calendar. It is a time when the natural beauty of spring and the simple elegance of centuries-old traditional Japanese culture combine in the unique Australian setting of the Cowra Japanese Garden – and you are invited to enjoy the result.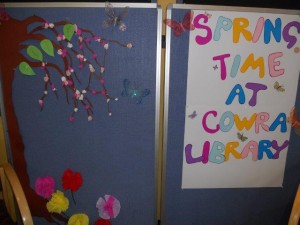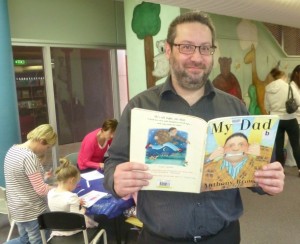 Dads Are Special Every Day of the Year
We know Dads are special every day of the year, but show your appreciation for fathers and father figures on Sunday 1st September whether it's chocolates, plants, a handmade card, remembering special times or sharing stories. Happy Father's Day to all the dads and here's a photo of our Librarian Michael enjoying his Storytime reading of My Dad by Anthony Brown to captivated pre-schoolers this week.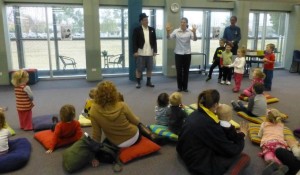 Thank you National Simultaneous Storytime Stars
Thank you to our "stars" for taking part in National Simultaneous Storytime featuring Nick Bland's story The Wrong Book about a a boy called Nicholas trying to tell his own story when an elephant, monster, pirate, Queen, rats and puppets interrupt.  It made Nicholas most upset. Much to the delight of the audience who called out with Nicholas everytime – "You are in the Wrong Book!" Congratulations Peter, Caleb, Bailey,  Maggie, William, Fiona and our guest storyteller Nicholas (aka library staffer Michael). Happy reading everyone!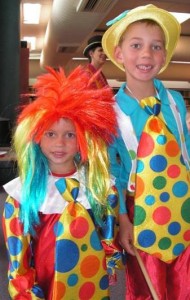 Clowning about at Storytime
Children (and some parents and carers) joined in the Circus Storytime theme last week and had lots of fun dressing up as their favourite circus performers. Dressing up as clowns, like Hayden and Liam pictured, was a popular choice. Just a reminder Storytime for pre-school age children and their parents and carers returns to Orange City Library during School Terms on Tuesdays, Wednesdays and Thursdays at 11am, and there is now an extra session on Thursdays at 2pm. Don't forget to book your place before the session you wish to attend up to one week prior. Keep reading!