Category Archives:
Manildra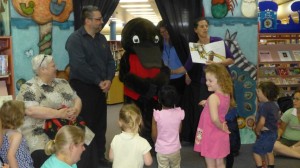 Welcome Freeda the Reader
Children at Storytime this week enjoyed meeting special guest – Freeda the Reader. They lined up to pat her flippers and stroke her soft fur. Storyteller Fiona introduced the giant platypus Freeda and talked to the children (carers and parents) about all the qualities that make her unique. Children were also able to guess her favourite hobbies correctly – can you? Yes –  swimming and reading! Her wish is for all children to discover the joys of reading.
Freeda the Reader will  be helping out with our Summer Reading Club activities during December and January – so when you see her, make sure you say hello.
More Time to Watch Your DVDs
A round of applause for our Library patrons who suggested this idea. Woo Hoo!  We have extended the borrowing time for DVDs from one week to two. So you have more time to enjoy the things you want to watch.
Call into any of our branches and have a look at our selection of DVDs which includes something for everyone. Whether you are interested in Westerns, Thrillers, Action, Romance, History, Documentaries or Children's shows, you will find something to watch from the library – for two weeks! Enjoy!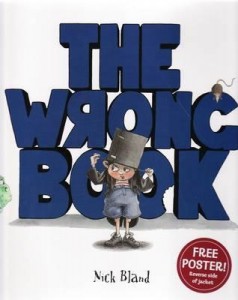 National Simultaneous Storytime Wed 22 May 11am
Connect with everyone around the country when we read the same children's story at the
same time for National Simultaneous Storytime on Wednesday 22 May at 11am during Library and Information Week. We will be reading Nick Bland's delightful story The Wrong Book.
It's about a little boy called Nicholas Ickle trying to tell a story, but he keeps
getting interrupted by characters from other stories – a pirate, a queen, even
some monsters! To get a chance to tell his story, he has to convince the others
that they are in the wrong book…….
National Simultaneous Storytime is an important annual campaign that aims to encourage
more young Australians to read and enjoy books. Now in its 13th successful year,
it is fun event that aims to promote the value of reading and literacy using an Australian children's book that explores age appropriate themes and addresses key learning areas of the National Curriculum for Grades 1 to 6. Enjoy!
Happy Birthday Banjo Paterson: Writing Awards
It's Banjo's birthday (Sunday 17th February) and to celebrate we are announcing the call for entries in the Banjo Paterson Writing Awards.  Poet, solicitor, journalist, war correspondent and ballad writer Andrew Barton "Banjo" Paterson (1864 – 1941) was born near Orange and each year the Central West Writers' Centre, in conjunction with Central West Libraries, The Central Western Daily and ABC Central West Radio announce the call for entries in the Banjo Paterson Writing Awards. 
There are four categories:  
         Short Story
         Open Poetry 
         Bush Poetry and
         ABC Central West Radio Children's Writing Awards for writing by children aged 16 years and under 
2013 Banjo Paterson Writing Awards Entry Form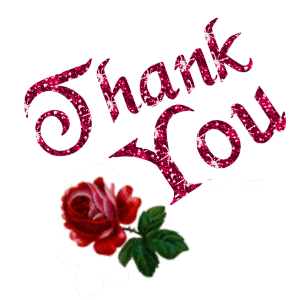 24 Hour Read Thank You
What a whirlwind 24 Hours! We were busy taking photos and uploading throughout the night thanks to our keen facebookers!!! We love all your photos and comments. It was fabulous to see such a wide variety of people reading in all different places. And how good are the "reading" x-ray images? The children, the pets, those naughty bears? The early birds, schoolchildren, the gym goers and people at home, local clubs, and in their workplace and those reading to others! We really appreciate everyone's efforts to show the Central West is a reading community, reading is fun and just ten minutes reading a day can really make a difference to a child and help develop skills for life. Photos are going to be coming in for a little while yet and you can view them at www.facebook.com/CWLibraries. Keep reading everyone!